Cooperation Agreement with Yeungnam University (South Korea) and Special Lecture by President Naya at Yeungnam University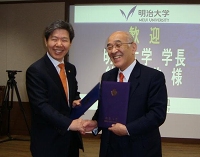 Left: Lee Hyo-soo, President of Yeungnam University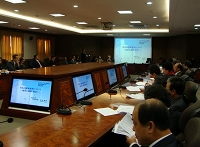 The scene at the lecture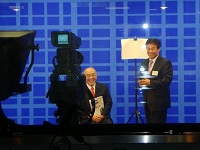 Inspection of the studio in the e-Learning Support Center
On November 2, 2010, Meiji University concluded a cooperation agreement with Yeungnam University. On the same day, a delegation from Meiji University led by President Hiromi Naya visited Yeungnam University and attended the signing ceremony.

Yeungnam University was established in 1967 through the merger of the former Daegu College (founded in 1947) and the former Chunggu College (founded in 1950) by President Park Chung-hee. It has one of the e-Learning Support Centers designated by South Korea to be established in only ten universities across the nation. Yeungnam University has been involved in exchanges with Meiji University in the e-learning field over the past years, and in April this year, President Lee Hyo-soo of Yeungnam University made a courtesy visit to Meiji University.

After the signing ceremony, President Naya gave a special lecture entitled Higher Education in Japan: the Current Situation and Challenges (Prospects). The Yeungnam University faculty members listened to the lecture intently and a lively exchange of opinions took place in the question-and-answer session after the lecture. After the lecture, the delegation led by President Naya visited the e-Learning Support Center, where they discussed the current state of e-learning at both universities, saw a demonstration of Yeungnam University's e-learning system solution, and inspected the studio in the e-Learning Support Center.

Going forward, in addition to research exchanges in many academic fields, the two universities are expected to engage in even more vigorous exchange activities involving the active utilization of e-learning in education led by the e-Learning Support Center, the characteristic approach of Yeungnam University.