Agreement signed to establish a reading room for Meiji University's Manga Library at Peking University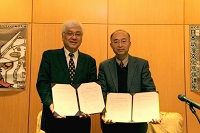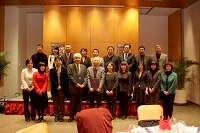 Following the conclusion of the second lecture on Japan's Avant-Garde Manga and Anime Culture," Meiji University signed a memorandum of understanding concerning the establishment of a Reading Room at Peking University to house the Manga Library of Meiji University.

The signing ceremony, held at Peking University Post & Telecom Conference Center, was attended by Toshio Harigai, Vice President in Charge of Policy Studies; Keiichiro Tsuchiya, Full-Time Director in Charge of Academic Affairs; Yukari Fujimoto, Associate Professor, the School of Global Japanese Studies; Kaichiro Morikawa, Associate Professor, the School of Global Japanese Studies; Shinko Hayashi, Adjunct Professor, the Organization for the Strategic Coordination of Research and Intellectual Property; and other members. Representatives of Peking University included Wu Zhipan, Vice President of Peking University as well as Jun Yan, Deputy Director, Office of International Relations; Cheng Zhaoxiang, Dean of Peking University's School of Foreign Languages, and others. In addition to people concerned with both universities, Shigeo Yamada, Minister of the Embassy of Japan in China witnessed the exchange of the memorandum.

This memorandum outlines the agreement of the two universities to secure sufficient displays of Japanese manga and animation culture at Peking University, with Meiji University providing manga-related documents and materials, and Peking University offering a Reading Room and engaging in its day-to-day operations. Going forward consultations on specific matters are expected to be advanced as required.

After the signing, Vice President Harigai said, "We are honored that our university's Manga Library will have a Reading Room at Peking University. Through this facility, we hope that the Chinese people will become acquainted with Japanese culture, and that the relationship between our two universities will be strengthened further." Peking University Vice President Wu commented, "I am delighted that Meiji University will install a Reading Room at our university," and expressed his expectations for promoting cultural and academic exchanges through high-quality manga and animation works.

Following the signing ceremony, members of both universities held a dinner reception to celebrate the conclusion of the agreement, and deepened their friendship toward further exchanges.