Meiji University participates in the formal- launch event of UN Academic Impact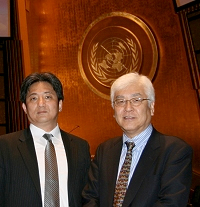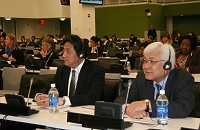 Meiji University took part in the formal-launch ceremony for United Nations Academic Impact held at United Nations Headquarters in New York on November 18 and 19, 2010.

Academic Impact (AI) is a global initiative that aligns institutions of higher education with the United Nations in actively supporting ten universally accepted principles in the areas of human rights, literacy, sustainability and conflict resolution. As of November 18, 493 universities / institutes from 90 countries have expressed their intention to participate.

The ceremony was attended by presidents and vice presidents of six Japanese universities, including Meiji University (the others were Kyushu University, Chuo University, Osaka Sangyo University, Kwansei Gakuin University, and J. F. Oberlin University) from among the seven universities in Japan which have expressed their intention to participate in the initiative.

From Meiji University, Toshio Harigaya, Vice President in Charge of Policy Studies; Takane Kawashima, Associate Professor, the School of Information and Communication; and other representatives attended the ceremony.

Meiji University introduced five ongoing projects, including collaboration with Human Rights Watch (HRW), an international NGO defending and protecting human rights, which has established an office at Meiji University, as well as the opening of the Noborito Institute Peace Education Resource Center on Ikuta Campus.

The ceremony started with an opening statement by the UN Secretary-General Ban Ki-moon. There were lively discussions during the two days about the following issues: building a network with each participating institute and selecting a hub university which will play a key role in pushing forward collaboration; constructing an exclusive database used for the initiative; utilizing information technology in order to encourage students to participate; and other issues.

On the second day, all the participants from Japanese universities met together at a luncheon reception organized by Kazuo Kodama, Ambassador Extraordinary and Plenipotentiary of the Permanent Mission of Japan to the United Nations. Ambassador Kodama expressed his gratitude for the universities' participation in AI, and promised that the initiative would have his full support.

Meiji University will actively take a leadership role in solving global problems through its participation in AI.