President of Korea University awarded Honorary Doctorate by Meiji University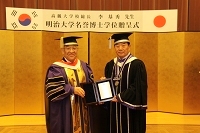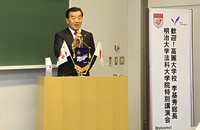 Meiji University awarded an honorary doctorate to President Ki-Su Lee of Korea University. The honorary doctorate of Meiji University is for those who have made outstanding contributions to humankind in knowledge, arts and other fields. President Ki-Su Lee is the 28th recipient of the degree from Meiji University.

On December 14 the ceremony was held in Kishimoto Tatsuo Memorial Hall of Liberty Tower on Surugadai Campus, and was attended by many top executives.

At the ceremony, President Hiromi Naya of Meiji University presented the diploma and medal of the honorary doctorate to President Ki-Su Lee.

President Ki-Su Lee expressed his appreciation for receiving the honorary doctorate and stated his hope for further deepening the friendship between the two universities.

Before the ceremony, on December 13, President Ki-Su Lee gave a memorial lecture on the theme of the role of lawyers in the global age. As an international lawyer he explained what lawyers are required to do in an era in which globalization is progressing rapidly. "It is important to learn foreign languages. I hope you learn not only English but also other languages as many as you can, and become active lawyers in the global age," he said.

President Ki-Su Lee was born in 1945. After graduating from Korea University in 1969, he acquired his master's degree in Law from Seoul National University in 1972, and then took his Ph. D at Tübingen University in Germany in 1983. He became Professor of Law at Korea University College of Law in 1984, and has served as President of Korea University since 2008.