United Nations Under-Secretary-General gives a lecture, "Young people, the world is your theatre!"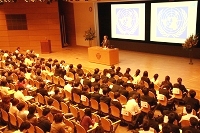 On December 14, 2010, Kiyotaka Akasaka, United Nations Under-Secretary-General for Communications and Public Information, gave a lecture at Liberty Hall on the Surugadai Campus in Tokyo, at Meiji University, which was hosting the lecture meeting, "Young people, the world is your theatre!" as part of its activities for the United Nations Academic Impact, a global initiative that aligns institutions of higher education.

Mr. Akasaka explained about the work of diplomatic negotiations, what the United Nations does and the relationship between Japan and the UN. He also appealed to the importance of finding a field of performance in the world.

Selected as one of Global 30 project universities by the government, Meiji University has promoted globalization in recent years. Meiji University considers that it has a responsibility to contribute to solving global issues, such as the environment, sustainability, poverty, and the protection of human rights, as well as its core responsibilities for internationalization in education and research. This corresponds with the 10 principles of the UN Academic Impact, in which Meiji University is taking part.

In August 2010, UN Secretary General Ban Ki Moon visited Japan and the very first meeting in Japan of UN Academic Impact was held. At that time, Meiji University declared its future commitment to work on these issues as one of the members of the international initiative.

Academic Impact is a global initiative that aligns institutions of higher education with the United Nations in actively supporting ten universally accepted principles in the areas of human rights, literacy, sustainability and conflict resolution. The Academic Impact also asks each participating college or university to actively demonstrate support of at least one of those principles each year. The movement has become very active since 2009, and as of November 2010, about 500 universities / institutes from 90 countries have expressed their intention to participate. In Japan, seven universities, including Meiji University, have expressed their intention.