The Chairman of the Board of Trustees shares his thoughts at the start of the year as 130th Anniversary of Meiji University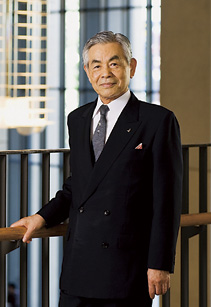 Let me take this opportunity to extend my greetings and wish you a happy New Year.
In 2011, Meiji University will celebrate its long-awaited 130th anniversary. Around the time of the birth of modern Japan, three individuals came together to found Meiji Law School in 1881. Professors Tatsuo Kishimoto, Kozo Miyagi and Misao Yashiro founded the precursor to Meiji University in their fervent hope to "foster bright, capable youths who would lead a modern civil society in Japan." Meiji University has since established an illustrious tradition, thanks to the intellect and tireless efforts of each person connected with the university.
We are implementing creative and continuous reforms in order to mold Meiji University into a top university, and build its future. In recent years, we have pursued sweeping reforms that would not have been possible without your positive support and encouragement.
The quality of education and research in higher education is a barometer for society, and at the same time enhances the university's competitiveness and chances for survival amid declining university enrollment in Japan. As one of the people involved in running Meiji University, I am committed to building open campuses filled with optimism and healthy vigor, in a spirit that is conducive to education and research. We will strive to mold individuals with distinct personalities who also possess the ability to make universal judgments in keeping with social norms.
Meiji University is steadily moving forward with six facility development projects that mark our 130th anniversary. These projects will expand our infrastructure, as we aim to secure the next leap in growth in areas such as education, research, sports and culture, while also being sensitive to the needs and perspectives of students.
I can be certain in saying that Meiji University is steadily moving forward, one step at a time. Now is the perfect time to learn from the spirit of the university's three founders, who created our university in the spirit of "rights, liberty, independence and autonomy." We can be proud of the tradition that Meiji University has established over the last 130 years, as we endeavor to build a path for future generations to follow.
The 130th anniversary of Meiji University does not mark a point of arrival. Rather, we should consider it a starting point to further transform the university as we look ahead to the university's 150th anniversary. We will encourage further internationalization and strive to develop people who can make social contributions in different fields. By fulfilling this mission, we will develop the sophisticated and comprehensive capabilities of Meiji University, molding it into a world-class institution. I would like to ask for your further support and guidance to achieve this goal.
In closing, let me wish you continued good health and happiness. I promise you that we will make every effort so that Meiji University soars to new heights in 2011.
Morihiro Nagahori, Chairman, Board of Trustees,
Meiji University