Dr. Jacques Attali gives a lecture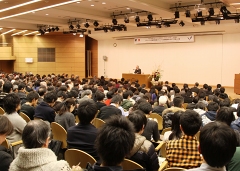 The packed Liberty Hall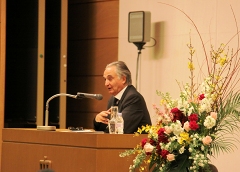 Dr. Jacques Attali answering questions from the audience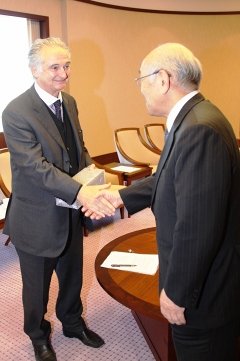 Meeting with President Naya prior to the lecture
On January 17, 2011, a lecture by world-renowned economist and political scientist Dr. Jacques Attali was held in Liberty Hall at the Surugadai Campus, co-hosted by the Embassy of France in Japan.

The approximately one-hour lecture was entitled "The Global Economic Crisis and New Paths for Achieving the Millennium Development Goals." During the question and answer session that followed, Dr. Attali was bombarded with questions from the audience but, true to his reputation of an intellectual giant, answered the questions earnestly, impressing the more than 500 members of the audience who packed the hall.

Writer, economist, and Honorary Member of the Council of State, Dr. Attali served as Special Adviser to the President of the Republic under former French President François Mitterrand and as first President of the European Bank for Reconstruction and Development (EBRD). He is currently president of the non-profit organization PlaNet Finance and was appointed President of the Commission for the liberation for French economic growth (the "Attali Commission") by President Nicholas Sarkozy.