Canadian Ambassador to Japan pays courtesy call on University President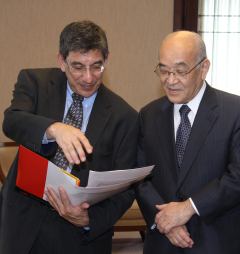 On 15 June, Canadian Ambassador to Japan Jonathan T. Fried visited Meiji University and met with University President Hiromi Naya and Vice President Estuko Katsu (in charge of international student exchange).

Ambassador Fried has been holding exchanges of information regularly with institutions of higher education for the advancement of multinational academic exchange. This was the Ambassador's third visit to Meiji University.

Ambassador Fried expressed his gratitude for the steady and continuous success of "Canadian Studies" held at Meiji University in cooperation with the Canadian Embassy. He also stated that he hoped that new ways of conducting research would be found.

There was also an exchange of opinions about the expansion and intensification of activities for the Japan-Canada Academic Consortium, for which Meiji University plays host. In addition, the Ambassador expressed hope for further exchange between Japan and Canada in the field of scientific research in the future.