Meiji University honorary doctorate awarded to Ms. Simone Veil, former Minister of Health of France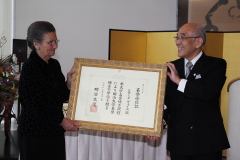 On September 1, at the Japanese Embassy in France, Meiji University presented its honorary doctorate to Ms. Simone Veil, a member of Académie Française, honorary president of the Foundation for the Memory of the Shoah, former Minister of Health of the French Republic, and former President of the European Parliament. This was in recognition of Ms. Veil's social achievements as a politician and lawyer, in particular, the exceptional contributions she has made to protect human rights and promote world peace and advancement of women.

Ms. Veil will be the thirtieth recipient of the honorary doctorate from Meiji University. Past recipients include Mr. Takeo Miki, former Japanese Prime Minister and a graduate of our university; Mr. Mikhail Gorbachev, former President of the Union of Soviet Socialist Republics; Mr. Joseph Jacques Jean Chrétien former Prime Minister of Canada; Mr. Mohd Najib bin Tun Haji Abdul Razak, current Prime Minister of Malaysia; and Mr. Louis Schweitzer, former Chairman of Renault.