Meiji University Law in Japan Program 2011 held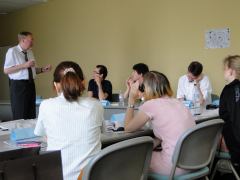 Participants look intently at the lecturer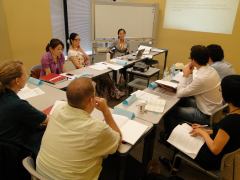 Participants listen carefully to a lecture on the Constitution of Japan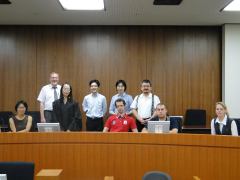 Participants enjoy the unique opportunity of receiving a lecture from a serving judge in an actual lay judge courtroom (Tokyo District Court)
From July 21 to August 3,
the School of Law
held the "Meiji University Law in Japan Program," an intensive summer law course which gives students an opportunity to participate in English-language lectures on Japanese law together with accompanying field trips.
This year marked the third occasion for the program to be held, since Meiji University launched it in 2009 as one of the new educational programs offered under the "Global 30 Project," which aims to establish Core Universities for Internationalization.
Participants from Canada, the United Kingdom, the Netherlands, France, Germany and other countries joined this program. Returnees and Japanese who had experienced living overseas joined for this year too, and there were a total of 11 participants. Ten teachers consisting mainly of Meiji University School of Law gave lectures and attended the field trips managed in English.
Lectures covered major fields of Japanese law such as Constitutional Law, Criminal Law, Criminal Process, Civil Justice, Family Law, Law of Enterprises, Competition Law, Tax Law, IT Law and International Law. Many contemporary topics in these fields were explained and discussed in each three hour long session. In addition, this program offered lectures on the Judicial System and the Legal Professions developed since the Meiji era in a social, cultural and historical context so that students were able to appreciate the characteristics of Japanese law from a broader socio-cultural perspective.
To enrich the knowledge gained through the lectures, the Law in Japan Program includes field trips to places such as the National Diet, the Supreme Court, Tokyo District Court (with a criminal trial in session), Tokyo Summary Court (with small debt proceedings in session), a law firm, a law office, and a prison. Participants could see with their own eyes how the Japanese legal system and legal institutions operate, helping to develop a practical as well as theoretical understanding. Many questions and remarks were made at the Immigration Bureau at Tokyo International Airport in Narita and Yokohama Prison because of its deep involvement with foreigners living in Japan. Remarks like "It was very nice to have the opportunity to visit these places as it is not so easy to do so individually," "It was well organized," were heard from the participants.
On the last day, a farewell party was held and participants were awarded a certificate for finishing the program. Participants and lecturers talked enthusiastically about their experiences in Tokyo.
The Law in Japan Program is designed to create an opportunity for foreigners who have interest in Japanese Law, but are prevented by the language barrier to study it in Japanese. We therefore welcome beginners who have never studied law before in their home country as participants. The attainment target of this program is to offer interested foreigners a chance to get a good overview of Japanese law and the surrounding social system through the intensive two week series of lectures and field trips. In the participants' post-program survey, "I now feel like studying law in Japan and/or in my home country" appeared among the responses this year again. This program would be an excellent foundation for further studies in Japanese Law, so we expect many foreigners to take part in it next summer, too.
For more details about our program, click here;
http://www.meiji.ac.jp/hogaku/law_jp/