U.S. Ambassador to Japan John V. Roos Meets with Meiji University Students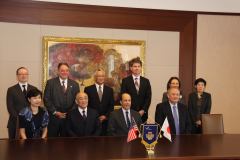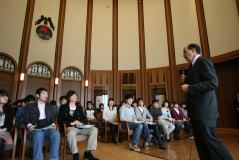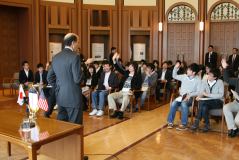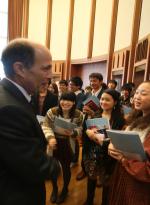 On November 10, Ambassador Extraordinary and Plenipotentiary of the United States of America to Japan John V. Roos visited Meiji University and met with President Hiromi Naya, Vice President Etsuko Katsu, who is in charge of international exchanges, Professor Kosaku Dairokuno, Dean of the School of Political Science and Economics, Mr. James Bowers, assistant director of the International Student Exchange Center, and Associate Professor Frank Michelin of the Organization for International Collaboration.

After meeting with senior university members, Ambassador Roos attended an informal gathering with Meiji University students and participated in a lively discussion moderated by Professor Go Ito of the School of Political Science and Economics, which continued way past the scheduled ending time. Ambassador Roos responded cordially to questions on a broad range of topics, including TPP negotiations, the relocation of U.S. military bases in Okinawa, the Great East Japan Earthquake that struck on March 11 and the September 11 terrorist attacks, student life, and exchanges among young people across the world. For the students of Meiji University, this meeting was an invaluable experience as it presented them with an opportunity to witness firsthand the enthusiasm, the deep insight, and, most of all, the warm personality of Ambassador Roos. Speaking from the experiences of his student days and his life in Japan, Ambassador Roos expressed his opinion that people are saying that Japanese students are inward looking, however he denied that firmly and emphasized the importance of acting on one's dreams and boldly taking challenges without fear of failure.