The Chairman of the Board of Trustees shares his thoughts at the start of the year -to the world!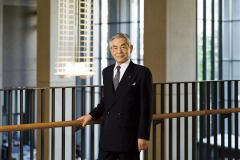 Let me take this opportunity to extend my greetings and wish you a happy New Year.
On November 1, 2011, we celebrated the 130th anniversary of Meiji University with a commemoration ceremony and celebratory party, attended by about one thousand people from in and outside of the university. The three founders of Meiji University, Tatsuo Kishimoto, Kozo Miyagi, and Misao Yashiro, established our founding philosophy of "rights, liberty, independence and self-government." As we look ahead from our 130th anniversary towards our 150th anniversary, we pledged to continue our efforts to become a university we can be proud of—a top university which contributes greatly to society—that builds on the founding philosophy and is based on the concept of "to the world—empower the individual, link to the world and the future."
I believe that the mission of the university is, based on the enhancement of education and research, to nurture individuals who will be successful not only in Japan, but in the world as well, and to improve our level of contribution to society. The university will devote itself to the enhancement of quality through the cultivation of individuals who have within themselves a balance of knowledge, virtue, and physical health, and can fully carry out their responsibilities and duties as members of society.
In FY2011 we reviewed employees' retirement and severance benefits and pension system for the purpose of maintaining fiscal health, and I firmly believe that it was extremely effective to do so in this milestone year of our 130th anniversary in order to enhance the university's management resources. Furthermore, in December, we formulated the Meiji University Long-term Vision. Going forward, we must establish priorities among the broad range of plans and consider tangible measures for their advancement. In particular, there are many tasks for our internationalization policy, such as enhancing the language education program, expanding the number of partner universities and overseas bases, receiving international students and sending out Meiji University students overseas, and contributing to the international community.
In the international community, when Meiji University students (graduates) and students from other countries (graduates) apply themselves to a task within the same timeframe, it is important for Meiji University students to be acknowledged as being at the same or higher level compared to students from other countries. I believe that is a benchmark for human resource education. As an incorporated entity, we will enhance the fields in which students and professors can succeed internationally, by improving our educational environment, such as the Surugadai C district and the Nakano 4th campus.
The board of trustees is committed to devoting its utmost efforts to fulfill its responsibilities in response to your enthusiasm. In order for Meiji University to drive Japan as one of its leading private universities, we will need your exceptional support and guidance. In closing, I firmly promise that we will make every effort so that Meiji University continues to soar to new heights in 2012.
Morihiro Nagahori
Chairman, Board of Trustees, Meiji University