Norio Sasaki, coach of Nadeshiko Japan and a graduate of Meiji University, receives the FIFA Women's Football Coach of the Year prize, the first-ever such feat for an Asian national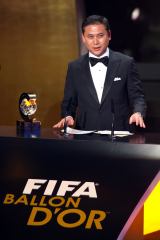 Enrico Calderoni/Aflo Sport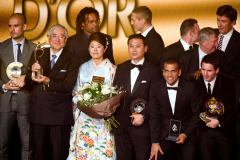 Enrico Calderoni/Aflo Sport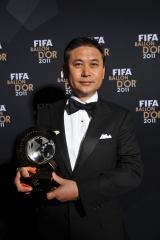 Aflo
Nadeshiko Japan coach Norio Sasaki, a graduate of our university (from the School of Arts and Letters in 1981) and a former member of the Meiji University Football Club, was awarded the Women's Ballon d'Or Coach of the Year Prize from the Fédération Internationale de Football Association, or FIFA. The award ceremony was held on January 10, 2012 at Zurich, Switzerland (January 9, 2012, local time).
This is the first time for a Japanese coach to receive this award. He is also the first-ever recipient of the award from the Asian region.
As you may all know, Coach Sasaki led Nadeshiko Japan, the Japanese National Women's Football Team which took its first-ever championship title in the FIFA Women's World Cup held in Germany in 2011. With his next goal set for the London 2012 Olympic Games scheduled to be held this year, Sasaki continues to head Nadeshiko Japan. His team won through the women's football Asian Olympic qualifying round, thus gaining the right to play in the Olympic Games.
Winners of FIFA Ballon d'Or Player of the Year and Coach of the Year Prize are decided by a poll cast by the head coaches and captains of FIFA-member national teams as well as from international media representatives. Coach Sasaki collected 45.6% of the votes, reflecting his high worldwide reputation.
◆
FIFA official website: FIFA Ballon d'Or 2011, Coach of the Year

◆
Japan Football Association official website
◆
Meiji University Football Club official website (Japanese)