FY2011 Meiji University Graduation Ceremony Held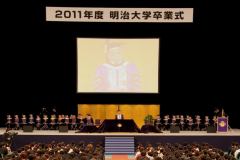 The first graduation ceremony to be held at the Budokan in two years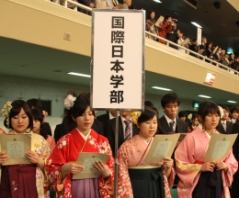 The School of Global Japanese Studies sent off its first 275 graduating students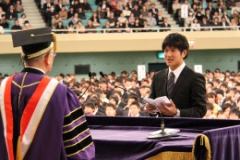 Mr. Akiyama, School of Agriculture, giving an address (morning ceremony)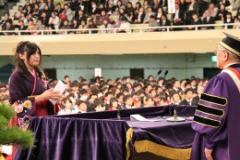 Ms. Saito, School of Business Administration, giving an address (afternoon ceremony)
The FY2011 Meiji University Graduation Ceremony was held on March 26, 2012, at the Nippon Budokan (Chiyoda-ku, Tokyo) and 7,668 students (6,545 undergraduate and 1,123 graduate school students) celebrated this happy day.

This graduation ceremony also marked the graduation of the inaugural class of the School of Global Japanese Studies, and many trustees, officials, and other faculty members, as well as parents and other guardians assembled for the ceremony, held for the first time in two years due to the cancellation following the Great East Japan Earthquake last year. In the radiant sunlight of early spring, they joined in the celebration as the young graduates embarked on a new chapter in their lives.

In his address to the graduating students, President Hiromi Naya gave strong words of encouragement, stating, "In the course of your lifetime, you will encounter numerous difficulties and at times you will be hurt and long for rest. However, whatever the circumstances, keeping up hope will enable you to overcome these difficulties. Always, no matter what happens, keep an attitude of 'moving forward.' If you push forward, a new path will surely appear."

Following President Naya's address, Chairman Morihiro Nagahori of the board of trustees gave an address, saying, "Leave this nest with the confidence and pride of having graduated from Meiji University." He also stated, "I hope that by the time Meiji University celebrates its 150th anniversary, we will have a Nobel laureate among our alumni. I also hope that for the rest of your lives you will continue to have a close relationship with Meiji University," thus expressing great expectations for the future success and interaction of the graduates who will join the ranks of Meiji University alumni.

Mr. Ryo Akiyama from the School of Agriculture and Ms. Yuka Saito from the School of Business Administration gave addresses on behalf of the graduating students in the morning and afternoon ceremonies respectively.

Looking back on his four years at Meiji University, Mr. Akiyama reflected with deep emotion, "The friends with whom I studied have become lifelong friends. I also learned during my meaningful campus life to advance with a spirit of pushing forward, no matter what the circumstances are, and the time I spent working toward my ambitions have become a truly important asset."

Ms. Saito expressed her determination for the future saying, "Individuality is not something that you refine by yourself; it is something that is polished through the relationships you have with others. I hope to use the individuality that I cultivated at Meiji University to work for the reconstruction of disaster-stricken areas and for the revitalization of Japan." She concluded her address with words of gratitude to the faculty and her parents.

At the end of the ceremony all those attending sang the Meiji University school song led by the Glee Club and Mixed Chorus, accompanied by the Meiji University Symphony Orchestra. The FY2011 graduation ceremony was then brought to a successful conclusion.