FY2012 Entrance Ceremony Held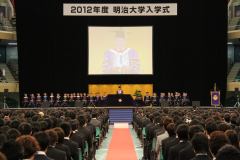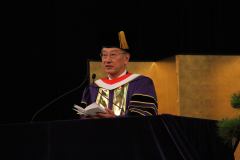 President Kenichi Fukumiya giving his address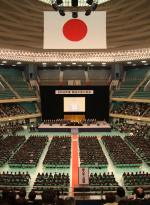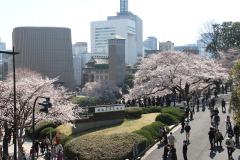 The FY2012 Meiji University Entrance Ceremony was held on April 7 at the Nippon Budokan and 7,877 students (6,832 undergraduate, 766 graduate school, 131 law school, and 148 professional graduate school students) took their first steps as "Meidai" students, a little nervous, but full of expectations for their new lives. The new Graduate School of Global Japanese Studies which opened this spring welcomed 26 students in its inaugural class.

On the day of the ceremony, the cherry blossoms at Kitanomaru Park and Chidorigafuchi, near the Nippon Budokan, were in full bloom as if to add to the festivities of the day for the new students, who were filled with expectations for their campus life.

The ceremony was held in two parts, the morning session for the Schools of Law, Commerce, Science and Technology, Agriculture, and Information and Communication, and the afternoon session for the Schools of Political Science and Economics, Arts and Letters, Business Administration, and Global Japanese Studies, as well as the graduate schools, law school, and professional graduate schools.

In his address, President Kenichi Fukumiya recounted how the university's founders, Tatsuo Kishimoto from the Tottori Han (Tottori Prefecture), Kozo Miyagi from the Tendo Han (Yamagata Prefecture), and Misao Yashiro from the Sabae Han (Fukui Prefecture), each came to Tokyo, their hearts full of ambition, and founded the Meiji Law School. He touched on the origins of the university saying, "Meiji University's founding principles of rights, liberty, independence and self-government are underpinned by the commitment and diligent learning as espoused by the three founders," and went on to say, "Global society demands the ability to think logically. To learn how to work proactively towards the realization of your own dreams instead of waiting to receive instruction from others is the true meaning of academia."

President Fukumiya further encouraged the new students saying, "Another quality the global society looks for is the ability to command respect as a person. In order to share peace and wealth with the people of the world and live in harmony, you need not only specialized knowledge and language abilities, but also human qualities, such as cross-cultural understanding and love for humanity, backed by a rich education. I hope that you will learn a great deal with a strong sense of inquisitiveness."

He concluded, "While times have changed, the difficulties faced by our founders as they sought to make their future are similar to the difficulties you will face today as you strive to pioneer your own respective futures. Keep the spirit of our three founders in your hearts as you make your way through Meiji University's 'forest of knowledge' to grow and pioneer a bright future."

Chairman Kensou Hidaka of the board of trustees followed with a congratulatory address saying "Meiji University is a university with tradition and history, with a total of more than 500,000 graduates. The university is strongly aware of its mission and role as an institution of higher learning and is committed to becoming a university that contributes to the world and makes the world proud, undertaking university-wide efforts for reform."

Expressing his hopes for the growth of the new students through campus life, he further stated, "To strengthen the individual is to polish the attributes of an individual, such as a sense of responsibility, passion, willingness, a sense of mission, knowledge, and leadership," and "Make friendships that you will keep for life through your studies and extracurricular activities during your school years in this era of change, and experience a sense of togetherness with your friends at Meiji University. Encounters may be fleeting in your long lifetimes, but the ties you forge from these encounters will become lifelong assets."

The ceremony concluded with everyone singing the school song with renewed expectations, as a movie depicting their new lives on campus starting from that day was played, and the new students took a firm step forward as Meidai students.