International Students Take a Bus Trip to Lake Kawaguchi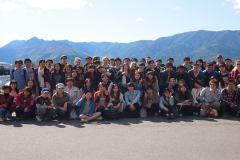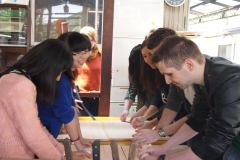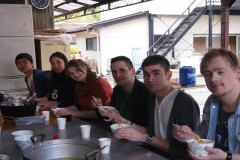 On May 12 (Sat.), the International Student Exchange Center organized a bus trip for international students to Lake Kawaguchi. The weather was beautiful on the day of the trip and 77 international and Japanese students left behind the hustle and bustle of the city and enjoyed making hoto, watching a monkey exhibition, and walking around the foot of the famed Mt. Fuji and the shores of Lake Kawaguchi.
As the bus drew closer and the students were able to see Mt. Fuji from the bus, excited voices rose at its magnificence. Unfortunately, clouds blocked the view of the summit, but the international students' were clearly impressed to see at close hand Mt. Fuji, the symbol of Japan.
At the Nenba Minshuku Nature Park, the students divided into groups to try their hand at making hoto, a local cuisine. Under the kind instruction of the staff at the nature park, the students cut vegetables, and kneaded flour, adding water little by little, to create a dough which they then rolled out and cut. Some of the international students had dishes that were made following similar steps in their native countries, and each group engaged in their work enthusiastically and efficiently. The students ate their piping hot hoto surrounded by the green of nature.
Next, the students visited a sarumawashi (monkey exhibition) theatre. Sarumawashi is a traditional performing art that has been around for a thousand years. The students watched and cheered as two monkeys walked around on stilts more than 2-meters high, acted out a skit, and more.
For the last part of the trip, the students enjoyed their time freely as they walked around the shores of Lake Kawaguchi.
While the summit of Mt. Fuji remained hidden behind clouds all day the international students said they were happy to be able to see Mt. Fuji and that the hoto was delicious. The Japanese students said that they were able to become acquainted with many of the international students, and that they hoped to participate in more such events.
Twenty countries were represented by the students who went on this trip: the United States, Uzbekistan, Australia, Canada, South Korea, Kyrgyzstan, Switzerland, Sweden, Serbia, Taiwan, China, Germany, Japan, Hungary, France, Bulgaria, Vietnam, Hong Kong, Romania, and Russia.
The international students' bus trip is held every spring for international students to see and experience Japanese culture, as well as to allow students to get better acquainted. In addition to the bus trip, the International Student Exchange Center organizes cultural experiences such as zazen (meditation) and the tea ceremony.