Courtesy call by the rector of the University of Düsseldorf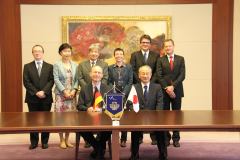 President Fukumiya (front right) and President Pipe
On April 2 Meiji University received a visit from the President of the University of Düsseldorf in Germany and his entourage, and University President Kenichi Fukumiya, Vice President Etsuko Katsu (in charge of international exchanges), Director of the MIMS Masayasu Mimura, and Associate Professor Frank Michelin of the Organization for International Collaboration held an exchange of opinions in the VIP room on the 23rd floor of the Liberty Tower on the Surugadai Campus aimed at the conclusion of a cooperation agreement between the two universities.

President Fukumiya welcomed the visit and explained about the School of Global Japanese Studies, School of Interdisciplinary Mathematical Sciences (provisional name), the Meiji Institute for Advanced Study of Mathematical Sciences, etc., that are going to be developed on the Nakano Campus in 2013. Vice President Katsu expressed her desire to actively send Japanese students overseas. University of Düsseldorf President H. Michael Piper referred to the point of contact between his university's researchers and Director Mimura for research exchanges in the field of mathematics and stated "I want to use this as a starting point for expanding exchanges in other fields as well." Furthermore, he explained the fact that his university had the largest undergraduate and graduate school for Japanese language education and Japan research in Germany, and the summertime short-term training program, support systems for students who have not studied the German language, etc., and promised that the university could provide opportunities for lively student exchanges.

Dusseldorf City in Germany is one of the largest centers for economic activity by Japanese people in Europe, as many Japanese companies have advanced there. The city also hosts a Japanese Chamber of Commerce and Industry, Japanese consulate, etc.