Lecture called "Hatsune Miku - Secondary Creations" held at Peking University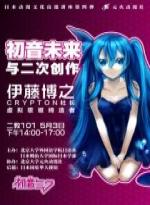 In Japan "Miku" is written in katakana and in China "Miku" is written in kanji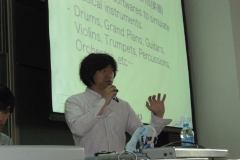 The speech by Mr. Ito utilizing rich video images and audio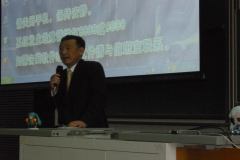 Full-time trustee in charge of academic affairs Iida, who hopes for the development of exchanges
On May 3 the School of Global Japanese Studies held the fourth "Lecture on Japan's Avant-Garde Manga and Anime Culture" titled "Hatsune Miku - Secondary Creations" at Peking University, known as the most prestigious educational institution in China, jointly with Peking University's Department of Japanese Language and Culture, part of the School of Foreign Languages. The venue was filled with the excitement of the audience which was in excess of the venue's 500-person capacity.

Mr. Hiroyuki Ito, the President of Crypton Future, the company which gave birth to Hatsune Miku, served as the lecturer.

Before the start of the lecture, Prof. Dr. Zhipan Wu, Assistant President of Peking University, and Kazuto Iida, full-time trustee in charge of academic affairs at Meiji University, each gave opening remarks, and stated that exchanges between the two universities would deepen and further expand through the continued holding of these collaborative lectures introducing Japan's subcultures – known throughout the world as 'Cool Japan' – as illustrated by the past three lectures: (i) "Sailor Moon" by director Kunihiko Ikuhara in May 2010, (ii) "Mobile Suit Gundam" by director Yoshiyuki Tomino in November 2010, and (iii) "Osamu Tezuka" by Mr. Macoto Tezka and Tezuka Productions president Takayuki Matsutani in November 2011.

Mr. Ito explained that Hatsune Miku was developed as one of a series of vocaloids (speaking characters) using software for virtual instruments (musical instruments which run on computers), but her voice was that of a voice actress. Furthermore, he told the attendees that the company gave a character to Hatsune Miku and created an illustration of her, which led to a chain of creation, with new versions of Miku being created in quick succession and becoming hugely popular overnight. Moreover, he talked about how their development of an environment in which users could freely create themselves, as a solution to the problem of copyright infringement, was a factor that that led to the increase in the number of fans.

Then at the end of his speech he shared the message "I hope that creators throughout the world will interact with each other through Hatsune Miku and that as a result international goodwill and cultural exchanges will make progress and our industry will develop further," as he unveiled a prototype of the Chinese language version of Hatsune Miku, and the venue filled with loud cheers.