Holding of the European Higher Education Fair 2012, an event introducing study abroad in Europe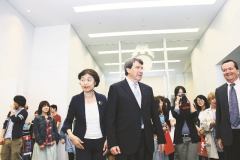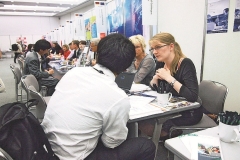 Meiji University held the European Higher Education Fair 2012 (sponsor: Delegation of the European Union to Japan) in the Academy Common over two days on May 10 and May 11. This is the first time such an event has been held in Japan. The objective of the fair is to enable Japanese students to more deeply understand the appeal of studying abroad in Europe, and more than 30 higher educational institutions from about a dozen European countries participated. The students who came to the fair could freely go around to each of the booths, and received explanations from the people in charge of the booths about the study programs and education and research. A total of 811 people came to the fair over the two days.

Students packed the venue, in which there were rows of colorful posters introducing the European universities. Furthermore, explanations about short-term study abroad and scholarships were provided in a seminar titled "The Forefront of European Higher Education," which was so crowded that some people had to stand.
One female student who had learned about the fair from posters put up at the university was filled with excitement, saying "it had an atmosphere like a festival which made it easy to listen to what people were saying and ask questions. A variety of universities are gathered together in a place like this so there are many opportunities," and she gave her feedback that "I strongly feel that Meiji University is open to the world and I am glad that I am enrolled here."

On the second day of the fair, Vice President Etsuko Katsu (in charge of international exchanges) and her associates from Meiji University guided H.E. Mr. Christian Masset, Ambassador of France to Japan, and his delegation on an inspection of the venue that was crowded with students. The ambassador toured the fair while chatting with the people in charge of the booths from each country and students now and again, and after that had an informal chat with Vice President Katsu about studying abroad in Europe, concluding his approximately one-hour inspection.