The School of Political Science and Economics hosts short-term exchange students from Northeastern University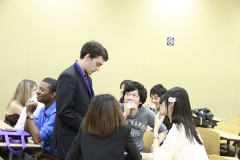 Student supporters meeting the students from Northeastern University for the first time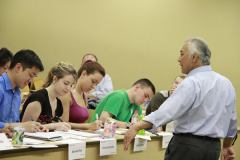 A special lecture by Dean Kosaku Dairokuno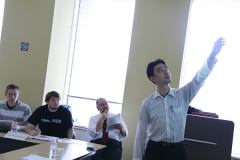 A special lecture by Mr. Hideki Takada of the Ministry of Finance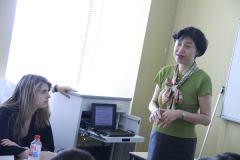 A special lecture by Meiji University Vice President Etsuko Katsu
Professor Bosso enjoying a chat with student supporters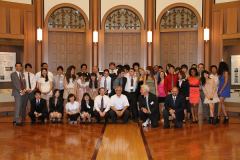 A commemorative photo taken during the farewell party
Meiji University has been hosting short-term exchange students from Northeastern University (NU) in the United States since 2008. We accepted the students once again this year, from May 9 to June 4.

A welcome reception was held on May 9. Along with members of the faculty, numerous student supporters from the School of Political Science and Economics also attended. During the students' stay in Japan, Meiji University teachers gave eleven special lecture classes in English on their areas of specialty, focusing on Japan's politics and economics. Mr. Hideki Takada of Japan's Ministry of Finance also gave a special lecture on Japan's financial policies. In addition, the students went on a tour of the Diet and the Bank of Japan, among other sites.

At the joint workshop held each year at the Yamanaka Seminar House, animated discussions took place on the various political challenges faced by both Japan and the U.S., led by Professor Christopher Bosso of Northwestern University as well as Professor Kevin Mark and Associate Professor Takeshi Matsuzaki of the School of Political Science and Economics.

The student supporters provided NU students with attentive and personalized assistance, from helping out with their studies to supporting their day-to-day needs. With the trust placed in them by the visiting students, the student supporters were able to deepen mutual exchange and understanding.

At the farewell party, Mr. Corey Maillette, teaching assistant at NU, looked back on the rich experiences of the one-month program, and gave a speech, saying, "I think for many of them, as with me, it has changed their life in some way." Taking back with them numerous memories of moving experiences, the students from NU headed home.