The School of Political Science and Economics hosts short-term exchange students from University of Southern California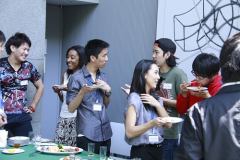 At the welcome party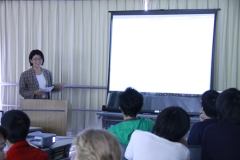 A joint workshop held at the Yamanaka Seminar House. A lecture given by USC Associate Professor Saori Katada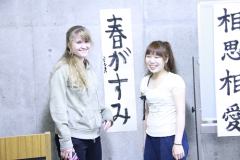 A joint workshop held at the Yamanaka Seminar House. Exchanges through calligraphy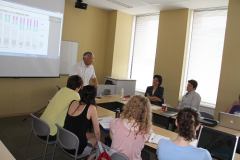 A special lecture given in English by Dean Kosaku Dairokuno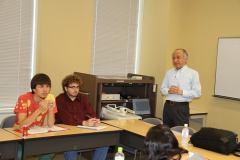 A special lecture given in English by International Exchange Committee Chair Takeda Takumi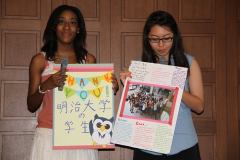 At the farewell party. A sheet of paper with written messages, presented by USC students
From May 28 to June 22, the School of Political Science and Economics hosted short-term exchange students from the University of Southern California (USC), our partner university.

Last year, the program was cancelled on account of the earthquake disaster. This year, however, fourteen students were selected out of numerous applicants and came to Japan. The fact that this exchange program was adopted by the Japan Student Services Organization as an official Short Stay (SS) Program and received a grant of 80,000 yen seems to have helped increase the number of applicants.

A welcome reception was held on May 28. Along with members of the faculty, numerous student supporters from the School of Political Science and Economics also attended, and deepened exchanges with the students from USC.

During their approximately one-month stay in Japan, students from USC, led by Associate Professor Saori Katada, attended lectures mostly relating to Japan's politics and economy. They also took part in a Japanese language program taught by Mr. Chad Walker, a teaching assistant at USC. They also participated in a joint workshop, held at the Yamanaka Seminar House, led by Professor Kevin Mark and Associate Professor Thomas Power of the School of Political Science and Economics. Students from USC and Meiji's School of Political Science and Economics were divided into groups, and made a comparison between Japan and the U.S. relating to politics and economics.

USC was established in 1880 and is known as the oldest private university on the West Coast. In the university rankings by the magazine US News, USC ranked 26th (2010) and the Times rankings 102nd (2008). USC also has an excellent track record in sports and has produced many Olympic athletes and gold medalists.