Meiji University Law in Japan Program Starts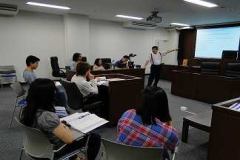 Judicial System class using a moot court classroom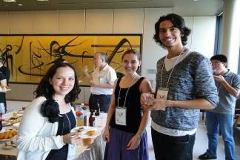 Smiling faces of participants at the welcome party
The summer short-term Meiji University Law in Japan Program started on July 23. Held in English, the program features classes on Japanese law and legal systems.
This program is mainly for foreign students living in Japan and abroad. Its purpose is to teach the basics of Japanese law and legal systems to students from abroad through lectures in English and visits to law firms, courthouses and the like. Held every year from 2009, this is the fourth time the School of Law has provided this program.
This year, ten people from a variety of regions—Germany, the United Kingdom, Brazil, Mexico, China, Singapore, and Taiwan—participated in the program. The course is expected to progress in a way that meets the needs of learners with diverse levels of knowledge and interest in law and various backgrounds.
The two-week program covers current issues related to legal fields such as Constitutional Law, Criminal Law, Criminal and Civil Procedures, Family Law, Law of Enterprises, Competition Law, Tax Law, Information Law, Intellectual Property Law, and International Law. By covering the development of legal systems from the Meiji era, Japan's judicial system, and more, the curriculum allows students to understand the characteristics of Japan's laws and legal systems in their social, cultural and historical context.
Field trips are also planned to the Supreme Court, a district court, a summary court, a corporate legal department, a prison, the Diet (House of Representatives' Legislative Bureau), and the Immigration Bureau. Through those trips, we hope to make the knowledge learned in class more practical and enriching.
The welcome party held on the first day provided an opportunity for participants and program instructors to interact and break the ice. Even participants tired from their long journey to Japan or nervous about the program eventually were smiling and enjoying themselves.
We expect the 10-day program will be meaningful to the participants and that it will provide an opportunity for them to gain deeper understanding of Japan.
Website related to this article is here