"Japanese Law, Politics, and Economics" 2012 Summer Short-term Program in the Social Sciences Held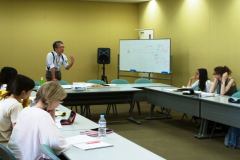 Classroom lecture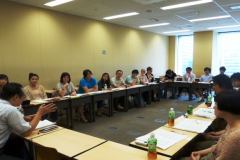 Classroom lecture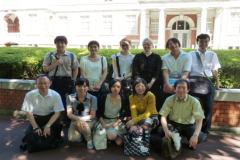 Visit to the Ministry of Justice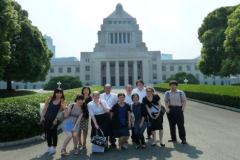 Visit to the Diet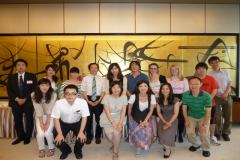 Farewell party
The Meiji University "Japanese Law, Politics, and Economics" 2012 summer short-term program in the social sciences was held from July 9 to 20, 2012. This program for students from abroad was an intensive two-week program that gave an introduction to Japanese law, politics, and economics in easy-to-understand Japanese. Following last year's course, this was the second time the program was held.

Nine students from France, the USA, China, Taiwan, Australia and Finland visited Japan to participate in lectures and field trips while receiving the assistance of Japanese students from the School of Law and the School of Political Science and Economics. Lectures covered Japan's judicial administration, education system, and fiscal condition, along with hot topics in modern Japan such as post-earthquake Japan, the saiban-in (lay judge) system, the employment system, and organ transplants.

Field trips centered on important institutions related to law, politics, and economics that normally do not offer tours to the general public, such as the Bank of Japan, the Diet, the Public Prosecutor's Office, a court, and a prison. Before departing on trips, the attending lecturer would give an explanation on the basics of the place to be visited. The students thus were provided with an opportunity to get a close-up feel for what kind of places the institutions covered in lectures are and what they do.

All of the students were presented with certificates of completion at the farewell party on the final day of the program. Lecturers and Meiji University students who participated in lectures and field trips were also present at the party where they said their farewells and enjoyed the time for interaction.

This program has been adopted for two years in a row as a "Student Exchange Support Program (Short Stay)" with the purpose of implementing a short-term program as a model for accepting students from abroad to diversify opportunities for students from abroad and spur the globalization of universities and similar institutions. At Meiji University, which is aiming to be a university open to the world, there are high expectations for the future development of this program as a new educational program for foreign students to study a wide range of social sciences in Japanese.