COOL JAPAN SUMMER PROGRAM 2012 Held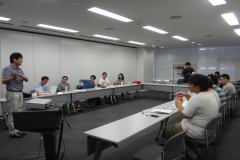 Participants listening to a lecture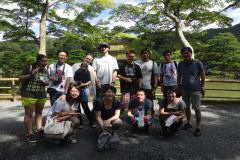 Field Trip(Kyoto)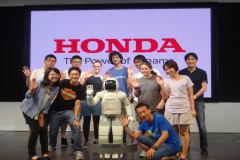 Honda"ASHIMO"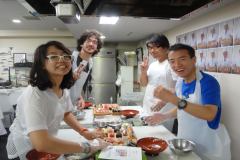 Experiencing Sushi Making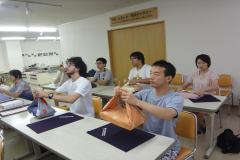 Experiencing FUROSHIKI "wrapping"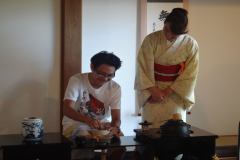 Experiencing Tea Ceremony
The third Cool Japan Summer Program was held from July 9th-20th, targeting foreign students abroad to introduce various aspects of Japanese culture. A total of 17 lecturers (made up of leading researchers and professionals in the business field) were invited to give talks to the 10 participants from 7 countries (China, Singapore, Malaysia, USA, Canada, Germany and Brazil).
 
In this year's program, we explored both the contemporary (manga, anime, games and fashion, etc.) and traditional culture, and how these two cultures merge and are being used to promote "Cool Japan" to the world. Some examples of the topics introduced were: the aesthetic of Japanese hospitality, the overseas expansion of Kyoto Yuzen(Japanese traditional dyed kimono), and manga being utilized in the business field.

Aside from lectures, various field trips and workshops were also conducted in places like Akihabara, Omotesando, Aoyama, Asakusa, Tsukiji etc. Furthermore, during the 3-day Kyoto field trip, we visited World Heritage temples, experienced the Japanese tea ceremony and Zen, Furoshiki wrapping, a manga assistant workshop and even spent a night in a temple.

On the final day of the program, all participants made a presentation regarding their own discovery of Cool Japan. We shared each other's viewpoint of "Japan" and dug deeper through the discussion conducted by the Meiji University teachers.

The participants showed a high level of satisfaction with the program, and one even mentioned "there is no other program where you can learn with this variety and depth about Japan. I really want to share this with the people in my home country".

We hope to continue improving further, so that we can spread the charm of Japanese culture to the world through our program.