17th President's Cup Japanese Speech Contest for International Students held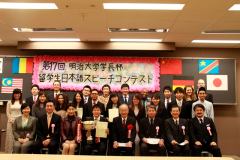 Participants and Judges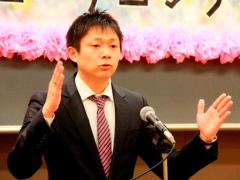 Mr.Bae Junsub, the winner of the President's Prize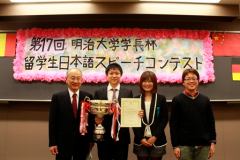 President Fukumiya, Mr. Bae and Advisers
The 17th Meiji University President's Cup Japanese Speech Contest for International Students (hosted by the Japanese Language Education Center and assisted by the Parent's Association Union) was held on November 17, 2012 in Room 1103 of the Liberty Tower on the Surugadai Campus. Bae Junsub from South Korea, a third-year student enrolled in the School of Global Japanese Studies, won the President's Cup.

A total of 20 international students from South Korea, China, Vietnam, Malaysia, Democratic Republic of the Congo , Germany, and Romania took part in this year's speech contest. A panel of judges comprising six members including University Vice President Etsuko Katsu, who is in charge of international exchanges, and Hideki Eto, Director of the Japanese Language Education Center, judged each of the speeches based on "clarity of content," "persuasiveness of argument," "comprehensibility of spoken Japanese," and "richness of nonverbal expressions."

Mr. Bae, who won the President's Award, used the theme, "Nasake no Aru Fukei (A scene of benevolence)." He talked about how, on his first day as an international student, he left his valuables on a train, but was saved by his Japanese friends despite this unfortunate accident. He also expressed his feelings of the experience after the Great East Japan Earthquake when the family of a Japanese friend drove to his home to deliver emergency food. He compared the feelings of the Korean people, who often express their passions openly, with the feelings of the Japanese people that are rooted in making considerations and caring for other people. He pointed out that those are sentiments that come about from not separating the self from others, but trying to unite them into one. He concluded that he believes connecting those feelings of the two countries, and the product that comes out of this, were the "scene of benevolence" that would open up Asia's future. Mr. Bae received a big round of applause from the audience.

This year, a planning committee was organized by 53 student coordinators who assisted the international students with writing and practicing their speeches. They also worked together to make the contest a success by providing assistance with public relations, setting up the venue for the day, ushering the audience, and serving as moderators.