New Year's Greetings from the Chairman of Board of Trustees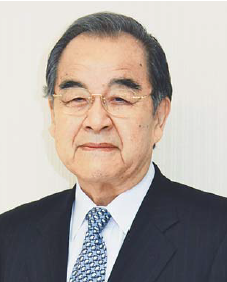 Let Us Keep Moving Forward
As we enter the New Year I would like to send my greetings to all of you.
2013 was a year where we strongly felt the effects of globalization. The government and corporations have great expectations that the universities will continue to fulfill their role of developing globally capable human resources, which is a very important mission. In response, Meiji University has taken various measures to ensure that our mission is accomplished, including the establishment of the Nakano Campus and the School of Interdisciplinary Mathematical Sciences, the completion of the Global Front and ASEAN Center buildings as well as the signing of the agreement to become an affiliated institute of the International University of Japan. The development of new projects and the improvement of educational and research environments are essential to further invigorate Meiji University. The impacts of globalization on education, research and the management of our university are expected to increase. We will continue our efforts to improve our management of the university in order to move forward and become a university that Japan can be proud of.
Our university has changed dramatically over the last decade as society's needs changed. In 2004, the School of Information and Communication and the professional graduate schools such as the Law School were established. Over the past decade, three schools and eight graduate schools have been established. The Nakano Campus and the Kurokawa Farm opened and the affiliated junior and senior high schools moved to Chofu. The coming decade is expected to see further changes and the significance of our university in society may be tested.
I firmly believe that, in order for Meiji University to cope with the changes in the needs of the times and the environment surrounding us and to continue developing into the future, we must further improve our educational and research activities. Achievements in education, research and graduate activities directly contribute to the reputation of the university. We have attractive lessons and educational programs as well as frontier research that companies and other sectors of society are interested in. We also have students, faculty members and graduates with a great deal of individuality. We need to disseminate information about these intellectual properties, both the tangible and intangible assets, to the world, while continuing to be an institute that is needed by society.
We will strengthen our governance system and commit ourselves to restoring fiscal health, as well as formulating a medium-term plan and introducing system reforms. We will also create an organization which can flexibly adapt to globalization, as well as improving educational and research environments. These are important and difficult challenges, but Meiji University will not be able to develop sustainably without overcoming these challenges. I would like to ask for your continued support and cooperation for Meiji University.
I would like to conclude my remarks by wishing you all good health and happiness in 2014.
Kensou Hidaka
Chairman, Board of Trustees, Meiji University