New Year's Greetings from the President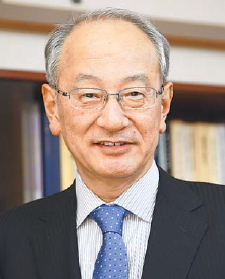 For the Drastic Improvement in the Educational Capabilities of Meiji University
This is the second New Year since I assumed office as the President. Let me first take this opportunity to extend to you my greetings and best wishes for the New Year.
Last year saw the establishment of the Nakano Campus and the work to make it a fully functioning campus which will be a hub for internationalization, frontier research and community partnerships was launched. With the completion of the Global Front at the Surugadai Campus, the graduate schools for humanities and sociology, the Organization for the Strategic Coordination of Research and Intellectual Properties and the Organization for International Collaboration have been able to move in and begin their work. Both of these facilities are expected to become major driving forces for the advance in the educational capabilities of Meiji University.
As part of our research activities, we applied for the Center of Innovation Science and Technology based Radical Innovation and Entrepreneurship Program (COI STREAM) conducted by the Japan Science and Technology Agency, the Ministry of Education, Culture, Sports, Science and Technology. We were selected as a candidate COI (COI-T). In view of being selected to become a COI in two years' time, we will support frontier research as a central institute, along with three other universities that were selected as satellite institutes which will support the COI-T.
These new activities attracted about 59,000 visitors on open campus days, which are about 4,100 more than those in 2012. High school students in the Kanto region were surveyed by a private sector research company in order to ascertain which universities they wished to enter, and our university ranked top in four areas including the male, female, science and humanity divisions as well as being the most popular university overall. These are perhaps the results of our tireless reform efforts and active PR activities which have attracted public interest.
However, further efforts and reforms are needed in order to survive in an environment that will become more competitive and continue to develop vigorously. We need to improve our educational capabilities and improve our distinctive characteristics. We urgently need to establish an internal quality assurance system for education that meets international standards in order to achieve levels comparable to universities of the highest educational quality worldwide.
It goes without saying that, in order to guarantee highest educational quality, temporary remedies for the academic problems we face will not be sufficient. Our academic affairs staff have elaborated schemes to provide solutions over the past one and half years and compiled a comprehensive educational reform plan which aims to bring the schemes to fruition. Briefings on the plan have already been given to the Academic Affairs Committee and the Executive Committee and staff members are currently preparing detailed proposals.
It is now time to embark on fundamental reform in order to achieve sustainable educational activities. I ask for your support as we make an all-out effort to reform.
Kenichi Fukumiya
President, Meiji University