Advancing into the world! The first Go Global Japan Expo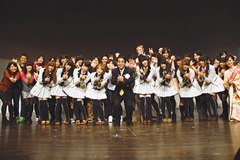 Meiji University students also took part in the performance of "Tobitate! Fortune Cookie" as backup dancers
On December 15, the first Go Global Japan Expo, intended to inspire high-school and university students to take on the challenges of studying abroad, was held at Waseda University, with approximately 4,200 people in attendance.

Held jointly by the Ministry of Education, Culture, Sports, Science and Technology (MEXT) and 47 universities from across Japan, including those such as Meiji University that have been chosen for the Project for Promotion of Global Human Resource Development, this event welcomed participants including the embassies of countries around the world.

Eight members of the pop group AKB48 also were on the scene, where they performed on stage for the very first time the song "Tobitate! Fortune Cookie" produced as part of the MEXT's Tobitate! Ryugaku Japan campaign to encourage studying abroad.