Meiji University International Institute for Bio-Resource Research (MUIIBR) First joint international symposium held with leading-edge researchers from around the world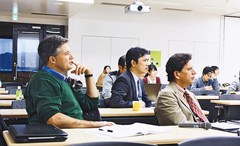 Leading-edge researchers from Japan, Germany, and the US gathered together to help make dreams for the future real
On November 10, the Meiji University International Institute for Bio-Resource Research (MUIIBR; Director: Prof. Hiroshi Nagashima, School of Agriculture) held the first MUIIBR/LAFUGA/NSRRC/CCMTR joint international symposium at the Kurokawa University Farm, together with three research institutes from Germany and the United States.

Established in 2011 as a special advanced research institute of the University, the MUIIBR carries out translational research combining the fields of medicine, agriculture, and engineering, based on a platform of cloned pigs and genetically modified pigs. It has announced a succession of research findings contributing to revolutionary advances in fields such as restorative surgery, organ transplants (interspecies transplants), organ regeneration, and reproductive medicine.

This seminar brought together researchers from world-renowned research institutes conducting state-of-the-art research like the MUIIBR—the Laboratory for Functional Genome Analysis (LAFUGA) in the Gene Center (Ludwig Maximilian University of Munich) and, from the US, the National Swine Resource and Research Center (NSRRC) of the University of Missouri and the Center for Comparative Medicine and Translational Research (CCMTR) of North Carolina State University—to exchange information on their studies and discuss future joint research.

Furthermore, the lecture by guest speaker Prof. Hiromitsu Nakauchi of the Institute of Medical Science of the University of Tokyo saw passionate discussion of the clinical applications of the findings of world-leading research on organ regeneration using pigs (a joint research project with Meiji University).