Launch of an international workshop in the field of urban architectural design at Meiji University ASEAN Center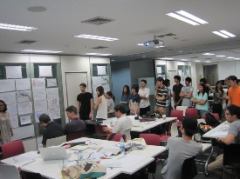 Group sessions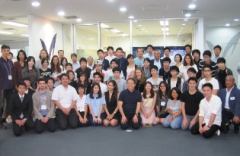 Group photograph of all participants
ASEAN Center
School of Science and Technology
Over the period January 11 - 17, 2014, a joint workshop on urban architectural design was held by Meiji University and Chulalongkorn University at the Meiji University ASEAN Center in Bangkok, Thailand.
The workshop was led by Dr. Masami Kobayashi, Professor of Architecture, and Dr. Manuel Talditz, Professor of Architectural Design, in the Meiji University School of Science and Technology's Department of Architecture. It attracted 18 students enrolled in the International Program in Architecture and Urban Design (I-AUD) in the School of Science and Technology at Meiji University and 18 students enrolled in the international design course in the Faculty of Architecture at Chulalongkorn University.
The research theme of the workshop was titled "The Question of How to Live at Harmony with Water - Case Study in the Kadeejeen and Khlong San Districts." The workshop served as a forum for consideration of problems of water-related destruction faced by both Japan and Thailand in forms such as flooding and tsunami. The participating students also discussed advisable approaches to living at harmony with water as a key component of agricultural and life activities, from perspectives including future waterfront development, community-building, and new design solutions.
They engaged in lively group-work and presented the findings of their research at a meeting held for that purpose on the final day.