Chida Research Seminar won First Prize in policy forum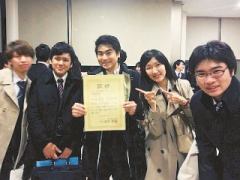 【School of Commerce】

On December 1, 2013, the final presentation meeting was held in a policy forum organized by the Inter-University Seminar for the Future of Japan (ISFJ) at the Japanese Red Cross College of Nursing (located in Shibuya-ku, Tokyo). The team consisting of five third-year students (Takuma Kurashige, Taewan Kim, Asako Goto, Ryohei Tsuchihashi, and Ryosuke Kanaya) of the research seminar led by Prof. Ryokichi Chida in the School of Commerce was awarded first prize for their policy proposal paper titled "Toward the Diffusion of Reverse Mortgage in the Aged Society."

The ISFJ is a non-profit policy think tank instituted for the purpose of motivating students to consider and publish requisite policies for Japan's future. It is operated entirely by students, and has gained the cooperation of many university teachers, think tank researchers, and policy makers, who examine the policy papers.