Kikuchi Research Seminar makes a project proposal to the president of Coca Cola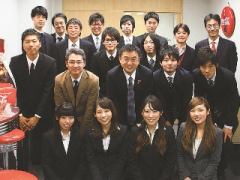 【School of Commerce】

On December 18, 2013, a group of 14 fourth-year students of the seminar led by Prof. Kazuo Kikuchi in the School of Commerce visited the offices of Coca-Cola Customer Marketing in Tokyo's Roppongi district to present a proposal of marketing strategy prepared as a graduate thesis before executives including Mr. Hidetaka Itsuji, its president.

After hearing the proposal, which was rich in content in spite of the short time available, President Itsuji praised it for its fresh outlook, which he noted could only come from students. He also had some words of encouragement for the young marketers, exhorting them to go out into society with the aspiration of wanting to research marketing.