Kikuchi Research Seminar awarded a prize in a Student Tourism Paper Contest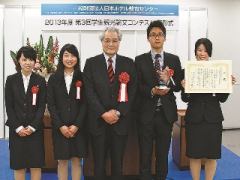 【School of Business Administration】

A team of four third-year students (Masatoshi Moriyama, Kie Oasa, Tsumugi Nohara, and Satoko Yanahashi) of the seminar led by Associate Prof. Masao Kikuchi in the School of Business Administration was awarded a prize (the Japan National Trust Chairman's Prize) in the Third Student Tourism Paper Contest. The award ceremony was held at Tokyo Big Sight on February 18.

The contest was organized by the Japan Education Centre for the Hotel Industry and other parties for the purpose of heightening interest in and concern about the tourism industry among students and nurturing the growth of a broad perspective on that industry. Entrants select one of three themes determined in advance and write papers on that theme. This time, the contest attracted 62 entries. One was awarded first prize, and two, second prize.