Nine pass the exams for certification as Clinical Psychologists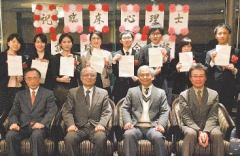 【Graduate School】

The academic year 2013 exams for certification as clinical psychologists were conducted from October to November last year. They were taken by 10 students from the seventh graduating class specializing in Clinical Psycho-Social Sciences (Clinical Psychology) Program of the Graduate School of Arts and Letters. Nine of these students passed the exams.

A clinical psychologist license is granted only to candidates who have been awarded a master's degree from a graduate school designated by the Foundation of the Japanese Certification Board for Clinical Psychologists, and who have passed the exams conducted once a year by the Board. The graduate Clinical Psychology Program at Meiji University has been designated as a preparatory graduate school by the Foundation, and boasts a high passing rate for the exams at 100 percent in academic year 2012 and 90 percent in academic year 2013 as compared to the nationwide average in the area of 60 percent.