A program of interchange and presentation by Japanese and Canadian students on the subject of population aging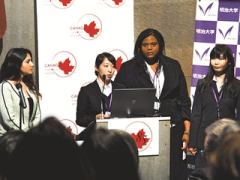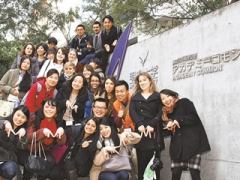 The Canadian and Japanese students looked into issues in each other's countries and deepened ties with each other
【JACAC Student Forum】

Over the period February 15 - 23, Meiji University hosted the Japan-Canada Academic Consortium (JACAC) Student Forum. The Forum attracted a total of 28 students, 14 each from Japanese and Canadian universities. Taking "Toward a Sustainable Economic and Social Development: Challenges in Aging Society in Canada and Japan" as its main theme, the program consisted of speeches in English as well as group discussions and field work.

The Forum is conducted by the JACAC as a short-term student exchange program. It is open to students of universities which are members of the JACAC. Through speeches, discussions, and workshops, the students examine issues in both countries and probe measures for their solution. The Forum also serves to deepen ties among the students and promote mutual understanding of each other's countries.

On February 21, a gathering for presentation of results was held at the Canadian embassy in Minato-ku, Tokyo. The students made their presentations in the presence of Her Imperial Highness Princess Takamado as well as Dr. Kenichi Fukumiya (President), Dr. Etsuko Katsu, Vice President (in charge of international exchange); Dr. Takeshi Suzuki, Professor of Information and Communications; Dr. Masao Kikuchi, Associate Professor of School of Business Administration; Manabu Kitawaki, Project Lecturer of the Organization for International Collaboration; The Honorable MacKenzie Clugston, Canadian Ambassador to Japan, and other distinguished persons. Group presentations were made by a total of seven groups, each consisting of both Japanese and Canadian students, and were allotted 15 minutes each. In them, the students made proposals for steps such as the stimulation of "silver business" and approaches to compact cities in order to address population aging, which is an issue shared by Japan, Canada, and many other developed countries.