Special lecture by iRobot's CEO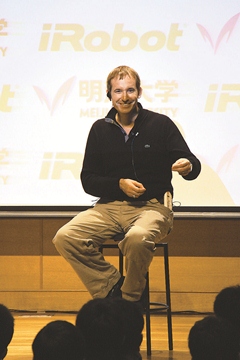 Mr. Angle commented: "I'm an optimist. Even if things do not go well, there is nothing to lose."
【School of Science and Technology】

At the invitation of Meiji University, Mr. Colin Angle, Chief Executive Officer (CEO) and founder of iRobot Corporation, delivered a special lecture titled "To You, the Leaders of Tomorrow's Robot Industry" at the Media Hall on Ikita Campus on February 19. His company is known for Roomba, the vacuum-cleaning robot which has created a sensation worldwide. Before the crowd of about 300 students and other guests who filled the hall, Mr. Angle gave an eloquent speech interspersed with many stories about the process culminating in Roomba's development, and emphasized "failure is a part of success."

In his remarks, Mr. Angle confessed that he had experienced failure many times in his attempts to launch robot-related business. He asserted that even successful entrepreneurs have virtually all failed many times before, and that success in only one out of ten tries might generate a thousand-fold profit. He encouraged students to go into business, adding that the key was to get started and take action even if the plan was not perfect.