US Ambassador to Japan Caroline Kennedy at the Study Abroad Talk Live in Meiji University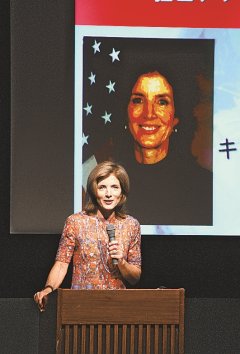 Ambassador Kennedy
Ambassador participating in the Talk Session with Minister Shimomura (left) and students
On March 28, as part of the "Tobitate! Ryugaku Japan", a campaign by the Ministry of Education, Culture, Sports, Science and Technology to promote studying abroad, the Ministry and the US Embassy in Japan hosted an event Study Abroad Talk Live at the Liberty Hall of our Surugadai Campus with a special guest, Honorable Caroline Kennedy, US Ambassador to Japan. Among the guests were the Minister Hakubun Shimomura and a popular female pop group. The venue was full of students who wish to study abroad as well as the media.

The master of ceremony of the Live was Professor Motoo Unno from the School of Political Science and Economics. A speech by Riyo Mori, "Miss Universe 2007" was followed by that of Ambassador Kennedy, who talked about studying abroad experience of her own as well as her parents and two children; she emphasized the advantages of studying abroad saying, "Through such experience, you will be able to become a global citizen and make life long friends. It will also bring opportunities to engage yourself in a more exciting job than you have ever imagined.

A Talk Session was held during the Live between Ambassador Kennedy, Minister Shimomura and students; Ambassador Kennedy encouraged students to study in the US by saying, "There are more than 4,500 universities in the US and you will have changes to meet so many people with different cultural backgrounds and from various countries if you study there". She also advised them by adding that "In studying abroad, it is very important not to be afraid of expressing your own opinions".

Kazushige Tsumita (senior-year student of the School of Political Science and Economics) studied at the University of Manchester in the UK and later took part in UN Youth Volunteers activities in Rwanda. He said "When I was in Rwanda, there were a number of occasions where people asked my opinion. My experience from studying abroad was very useful on those occasions".

At the end of the event, JKT48, an affiliated group of AKB48, performed its song and dance "Tobitate! Fortune Cookies", a special version of the AKB48's hit tune "Fortune Cookies in Love", promoting studying abroad. Students were also on the stage with the group to sing and dance, which made the audience even more excited.