The International Association of Universities Holds a University-wide Hearing Session for the Internationalization Strategies Advisory Services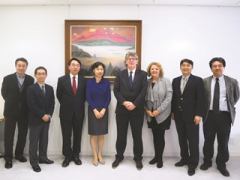 Specialists from the ISAS (second to fourth from right) and the officers of our Organization for International Collaboration
【Organization for International Collaboration】

From March 4 to 7, the Organization for International Collaboration conducted a university-wide hearing session with a specialist team from the Internationalization Strategies Advisory Services (ISAS) provided by the International Association of Universities (IAU, UNESCO's consultative body).

It provided us with good opportunities to reflect on our further commitment to internationalization: "why does Meiji University aim to be internationalized?", "what are the strengths and potentials of Meiji University?". Based on advice given by the specialist team from the international point of view, the university aims to make an all-out effort for further internationalization of the univerisity.