Director-General of the Public Service Department of Malaysia visited Meiji University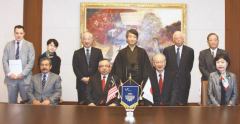 Director-General of the Public Service Department of Malaysia, making commitment to further exchange in the future (front row, middle to the left), President Fukumiya (front row, middle to the right)
On March 14, Tan Sri Mohamad Zabidi Zainal, Director-General of the Public Service Department of Malaysia visited the Surugadai Campus and exchanged views with President Kenichi Fukumiya.

Meiji University has a close relationship with Malaysia: in 2007, our first satellite office was established in the Universiti Teknologi Malaysia; and our Professional Graduate School conducted training for executive public officers of Malaysia together with "Razak School of Government", a Malaysian institution for training executive national public officers.

Dato' Mohd Tajudin Bin Don, Director of the Human Capital Development Division at the Public Service Department of Malaysia, also participated in the confab. He had achieved the master's degree at our Graduate School of Political Science and Economics and enjoyed the first meeting in a while with Professor Emeritus Akira Nakamura, his teacher in his university days.