First Shipment of High-sugar Content Tomatoes Produced by the "Coral Gravel Farming" Patented by Meiji University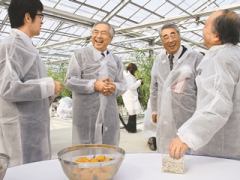 Sweet tomatoes made everyone smile: From right, Associate Professor Nakabayashi, President Akasaka, and Town Mayor Kato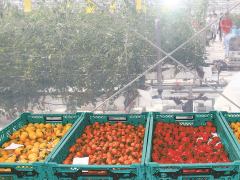 "Sweet Ma Cherie" shipped as commercial products
The ceremony commemorating the first shipment of the high-sugar content tomatoes produced by the "coral gravel farming", developed by Associate Professor Kazushige Nakabayashi of the School of Agriculture, was held on February 26, at Shinchi Agri-green in Shinchi-machi, Fukushima Prefecture, with the participation by the parties involved in the project and people from Shinchi-matchi.

The project was subsidized by the Reconstruction Agency and the Ministry of Economy, Trade and Industry through the FY2013 small business support funding "Cutting-edge agricultural system experimental projects". All parties collaboratively participated in the project--Meiji University, which supports farming technology through the Research Extension and intellectual Property Headquarters, Shimizu Corporation (head office: Tokyo), Shinchi Agri-green (an agricultural corporation in Shinchi-machi in charge of the farming activities) and York Benimaru, Inc., a large distributor in the Tohoku region owned by Seven & i Holdings Co., Ltd.

【"Sweet Ma Cherie"; the Brand Name】
"Ma Cherie" in French means "my precious". There are five varieties of tomatoes to be shipped this time: "Yellow Mimi", "Yellow Aiko", "Aiko", "Toscana Violet" and "Piccola Canaria". These tomatoes have sugar content of more than nine degrees Brix. The brand is named "Sweet Ma Cherie" in hope that these sweet tomatoes become precious ones for everyone, and the tomatoes are going to be sold at York Benimaru stores in and neighboring Koriyama, Fukushima Prefecture, for the time being.