Award Winner Announced at the Surugadai Campus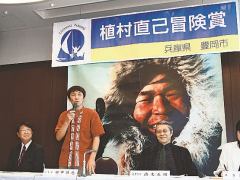 Mr. Tanaka talking about his high school days when he read all the books of Naomi Uemura (center) at Shikonkan
【Uemura Naomi Adventure Award】

On March 18, the announcement of the 18th "Uemura Naomi Adventure Award" (hosted by Toyooka city, Hyogo) was held at the Shikon-kan, Surugadai Campus; the Award commemorates Naomi Uemura (graduate of the School of Agriculture in 1964), who was a member of the Meiji Alpine Club and a world-renown adventurer. The Award went to Mikiya Tanaka, an adventurer, who has completed 22,000 km of expeditions over a period of 19 years in the severe winter of Canada.

The Award was created to pass on the spirit of Mr. Uemura and celebrate creative achievements that bring dreams, hope and courage to people. Meiji University has been collaborating in the organization and hosting of the Award since its creation in 1996. This year, the winner was selected from 213 adventures in Polar Regions, mountains, oceans and so on that took place in 2013.

Mr. Tanaka, the Award winner is 48 years old and from Kanagawa Prefecture. Since his first adventure in the winter of 1995 in Canada, he has been visiting Canada almost every year. Under severe circumstances that could be 40 to 50 degrees below zero, Mr. Tanaka took on the challenge to travel only by man power such as mountain ski, waking and bicycle without the use of any engine.