Meiji International Friendship Organization × UNIQLO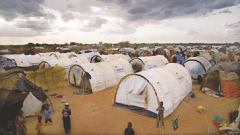 (C)UNHCR/E.Hockstein
United Nations Refugee Agency Japan
Total Product Recycling Activities – Please bring along any unwanted clothing
Meiji International Friendship Organization × UNIQLO
Any items of clothing you donate will be sent to people who really need them, such as refugees, and will be reused. Any clothing that is stained or torn will be recycled as industrial material for making work gloves, etc., or used as fuel.
* Please wash clothes before donating. All manufacturers, types of clothing and sizes are accepted.
【
Held concurrently
】
Refugee Camp Tent Display

- Learning about the lives of refugees -
Why not come along and see for yourself at Meiji University the actual tents used at refugees camps? This is an excellent opportunity to learn about the lives of refugees from the items displayed in the tents.
Date
3 - 5, June 10:00 - 16:30
Venue
1-9-1 Eihuku, Suginami-ku, Tokyo
<Izumi Campus

>


Near the stairs outside the Media Building
(in front of Building No. 1 in the event of rain)
Hosted Jointly by
Fast Retailing, J-FUN Youth
Co-sponsored by
UNHCR Japan
Supported by
Delegation of the European Union to Japan
Inquiries
Anna Tamura (Law 3)
Email: meiji.cloths@gmail.com