Students from Kuriyagawa Junior High School in Iwate Prefecture Visit - To Learn the Meiji University Earthquake Disaster Reconstruction Support Activities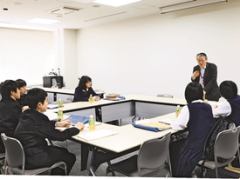 Vice President Matsuhashi shares his experiences and talk about reconstruction support activities conducted by the university and its students
Six students from Kuriyagawa Junior High School in Morioka City, Iwate Prefecture, on a school field trip for independent group research visited the Surugadai Campus on April 16 to learn about Meiji University's support activities for earthquake disaster reconstruction through interviews.

The junior high school students embarked on a fact-finding trip to visit Tokyo companies and institutions involved in reconstruction support activities after the Great East Japan Earthquake and learn about the assistance efforts and results on the thesis "Toward True Reconstruction." The students learned details about Meiji University's active involvement in reconstruction support activities, led mainly by student volunteers, and its efforts to educate volunteers.

Koji Matsuhashi, Meiji University Vice President (in charge of academic affairs) and Vice Center Chief of the Support Center for Earthquake Reconstruction, who is from Iwate Prefecture, met the students. After the group excitedly caught up with topics from their home prefecture, Vice President Matsuhashi showed a video and talked in detail about the university's reconstruction support activities.