Meiji Institute for Advanced Study of Mathematical Sciences (MIMS) Becomes the First Meiji University Organization Approved as a MEXT Joint Usage/Research Center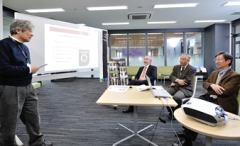 Members of MIMS along with Director Mimura (left)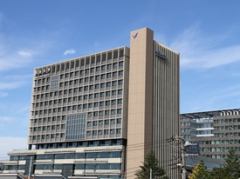 Nakano Campus, which provides the research base for MIMS
Meiji Institute for Advanced Study of Mathematical Sciences (MIMS) (Director: Professor, Masayasu Mimura) is an affiliated research center of the Organization for the Strategic Coordination of Research and Intellectual Property (Head: Professor Kenichi Fukumiya). MIMS was recently approved as a Joint Usage/Research Center by the Ministry of Education, Culture, Sports, Science and Technology (MEXT).

This is the first time a Meiji University organization has been approved as a Joint Usage/Research Center and the award will give major impetus to the promotion and publication of research in the future. The base is known as the "Center for Mathematical Modeling and Applications" and the approval period runs to March 31, 2020.

We are the third university to obtain approval for a base in the field of mathematics and mathematical sciences, after Kyoto University and Kyushu University, and the first private university to do so, and there are major expectations for our contribution to the development of this field.

In relation to the approval as a Joint Usage/Research Center, MEXT has also decided to provide a grant to MIMS for FY2014 in the form of "start-up support to develop and promote projects at unique joint research centers". The amount of the grant is 27,095,000 yen.