Holding of the European Higher Education Fair 2014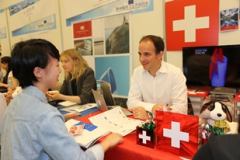 Students voiced doubts and misgivings about study in Europe directly to people at the booths.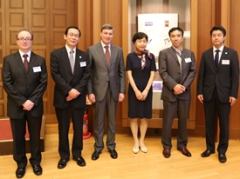 At the reception Meiji University Vice President Etsuko Katsu in a commemorative photo with Daisuke Yoshida, Director-General of the Japanese Higher Education Bureau (second from left), and Hans Dietmar Schweisgut, EU Ambassador to Japan (third from left).
The European Higher Education Fair 2014 was held at the Academy Common on Meiji University's Surugadai Campus on May 16 and 17. Sponsored by the Delegation of the European Union to Japan, the Fair communicated the benefits of study in Europe to students and the general public in Japan.

This third installment of the Fair attracted the participation of about 60 universities, embassies, and student exchange organizations from 14 countries and regions in Europe. Through various seminars and presentations, the participants described individual educational institutions and the diversity of programs for study in Europe, including short-term programs.

This year also saw participation for the first time by representatives from the member-countries of Austria, Lithuania, and the Netherlands. The total attendance over the two-day run came to about 1,500 and consisted of Meiji University students, students of other universities, members of the general public, and high-school students. The visitors avidly made the rounds of booths and eagerly collected information.