Special Academic Symposium Held to Mark the 110th Anniversary of the School of Commerce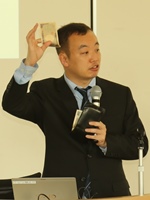 Senior Assistant Professor Asai described Bitcoin as having no guaranteed value and as being completely different to the money issued by the Bank of Japan.
"Is Bitcoin money? The present, past and future of currencies."
On May 13, to mark its 110th Anniversary, the
School of Commerce
held a special academic symposium at the Izumi Library Hall entitled "Is Bitcoin money? The present, past and future of currencies." The popular theme of virtual currency Bitcoin, which has made headlines recently, helped to fill the 120-capacity hall, which had standing room only.
* Bitcoin
Bitcoin is an internet-based virtual currency introduced in 2009. Settlement can be carried out without using financial institutions and this helped to popularize Bitcoin around the world as a way of making everyday payments and holding assets. The bankruptcy of a leading Bitcoin exchange in February this year made headlines. There are concerns over its use for money laundering and the sale of illegal items, and the United States Department of the Treasury has published legislative guidelines. The Japanese government has stated that Bitcoin is not a currency and decided to treat it as a "commodity" in the same way as precious metals.