Holding of a joint design workshop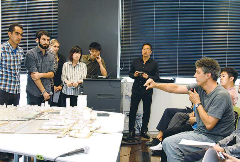 The International Professional Course in the Architecture Program of the Graduate School of Science and Technology (taught by Dr. Masami Kobayashi) held a joint design workshop over the nine-day period September 25–October 3. The workshop attracted the participation of 22 students (from eight countries) of the University of Southern California and Technische Universität Dortmund, as well as 25 students of Meiji University.
The workshop took a planning project for the former site of the Tsukiji Market as its theme. The students broke into eight mixed groups, and each group proposed a plan for use of the site, which is being reborn as a new international sightseeing spot in time for the 2020 Tokyo Olympics. On October 3, the last day of the workshop, a meeting was held for final review of the proposals on the Nakano Campus. Each group made a 15 minute presentation of its proposal. While the workshop lasted for only a short time, it was marked by full and close communication among the participating students. At least one of them remarked that, although it was hard to get ideas across in some cases because outlooks varied somewhat with nationality, the workshop provided valuable insights into differences of conception and other items.