"The Merchant of Venice" staged by a theatrical troupe of Cambridge students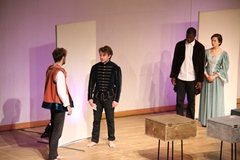 The Pembroke Players, a theatrical society composed of students of the University of Cambridge in the United Kingdom, staged a production of the Shakespearean opus "The Merchant of Venice" at Liberty Hall on the Surugadai Campus on October 3. The production was part of the British Studies program implemented by the Headquarters of International Collaboration, which invites noted researchers from the United Kingdom to participate in it. This was the seventh performance this year. The play was attended by about 100, including members of the general public as well as MU students and teachers. The young actors of the troupe delivered dynamic and moving performances, which were roundly applauded by the admiring audience.
Holding of a workshop on the same day
In advance of the performance of "The Merchant of Venice," a workshop was held in the multi-use sports room on the second lower level of Liberty Tower on the Surugadai Campus on the afternoon of the same day. In the workshop, the members of the troupe gave a lecture on techniques for dramatic training to the MU students. The workshop was held to promote interchange between the students, while learning about genuine theater.