Mr. Michael Lindenbauer, Representative of the United Nations High Commissioner for Refugees (UNHCR) Office in Japan, Pays Courtesy Visit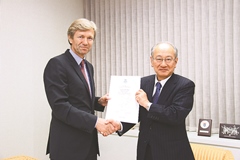 On November 6, Michael Lindenbauer, Representative of the UNHCR Office in Japan, paid a courtesy visit to Meiji University for the first time since being assigned his new post. Mr. Lindenbauer engaged in a friendly discussion and exchanged opinions with representatives of Meiji University, including President Kenichi Fukumiya, in an effort to boost cooperation between the two organizations.
He also presented a letter of appreciation to President Fukumiya for Meiji University's cooperation with the 9th UNHCR Refugee Film Festival, which was held in October. The two exchanged a firm handshake.