Shakespeare Project: "Clowns' Vanish/Crown's Awakening" Two Shows Performed Back to Back for First Time; 3,782 People in Attendance, which was Most Ever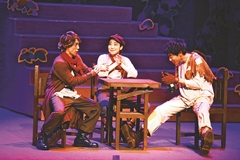 The Meiji University Shakespeare Project (MSP) for the 2014 academic year, in which Meiji University students perform spectacular Shakespeare plays, entitled "Clowns' Vanish/Crown's Awakening" was held at Academy Hall on Surugadai Campus for three days from November 7 to 9 (five performances in all).
This was the first year back-to-back performances were put on for the MSP. A total of 3,782 people attended the performances, which was the most ever. The students entertained the audience with powerful acting, making the many hours of practice and preparation pay off.